ATTENTION JR HIGH FOOTBALL PLAYERS... First practice will be held Monday, Aug. 22nd from 4:00-6:00. Physicals are required!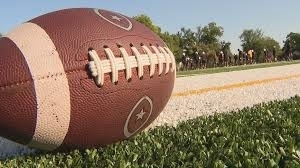 Fall Sports Schedule & Pass Costs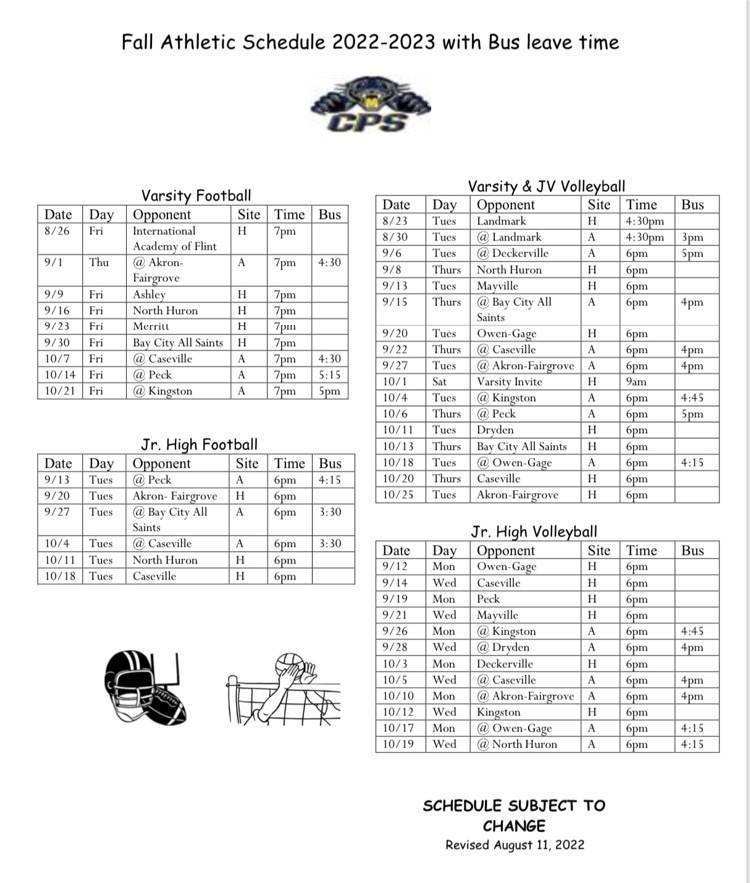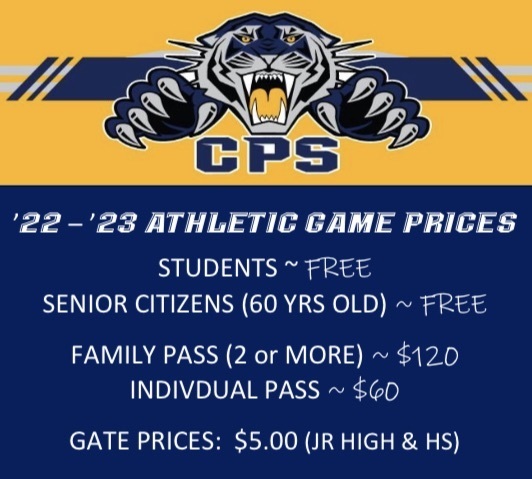 Check out the upcoming food pantry that is happening in our area.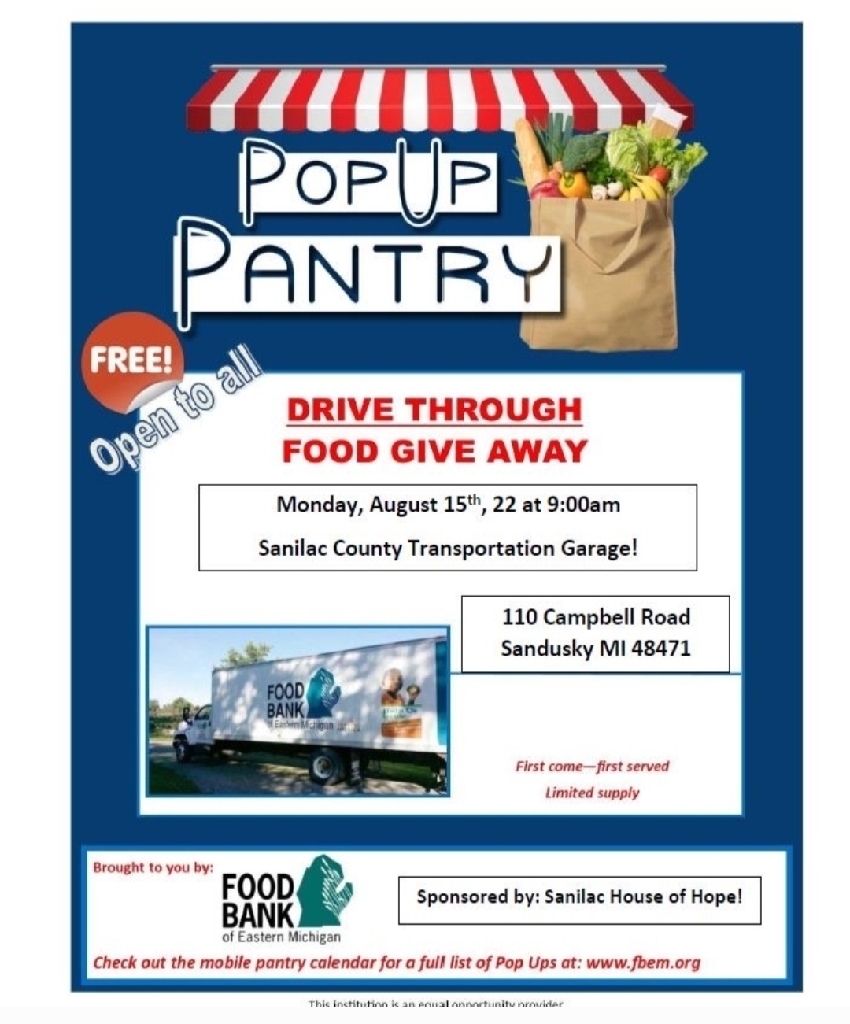 If you are at the Sanilac County 4H Fair today, stop in and chat with Mrs. Thompson! She can tell you about all things CPS, especially our early childhood programs!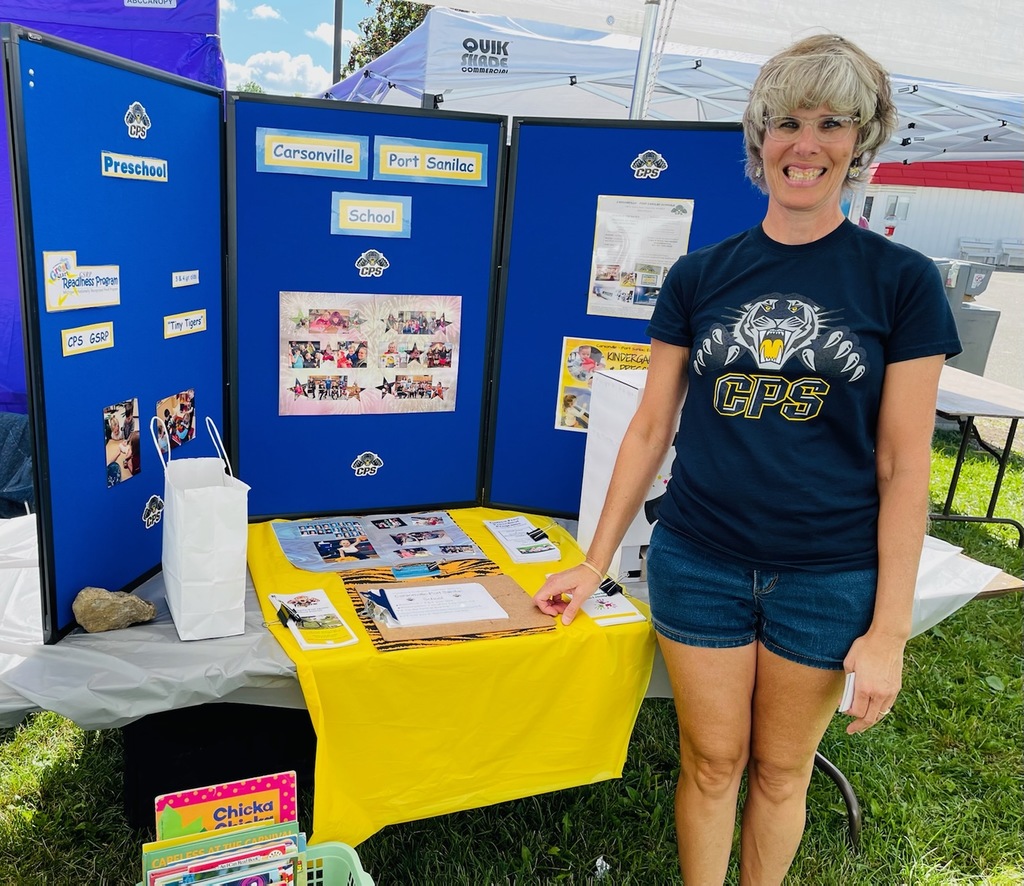 Kickball Tournament this Sunday! 5-8 pm at the Bark Shanty Community Center! Register your team at:
portsanilacrec@gmail.com
.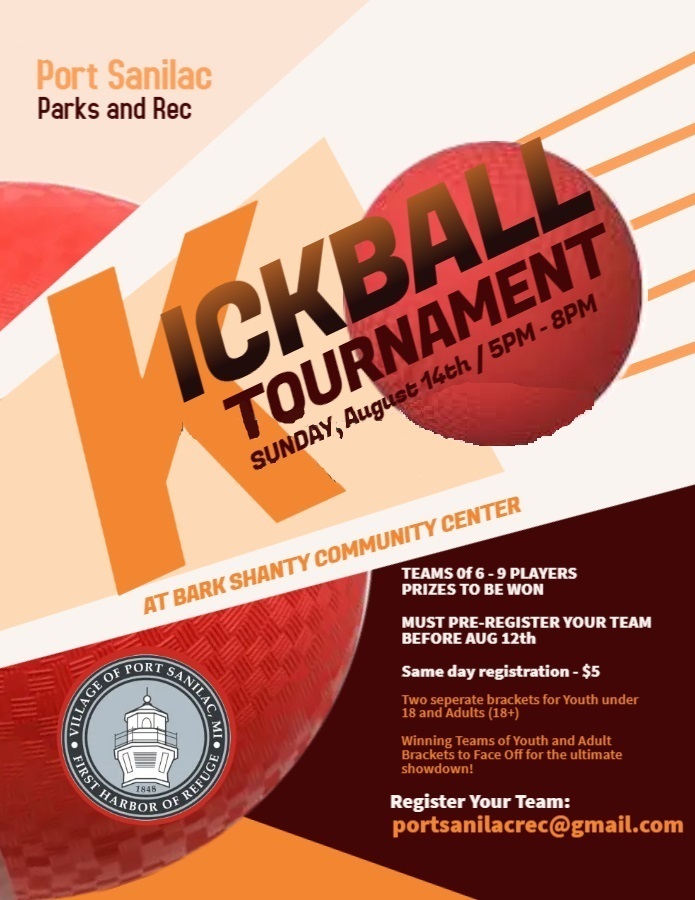 Next week is our last week of summer school programs. The elementary program will combine onto Wednesday and have a pizza party and some other fun activities. Please plan to send your Elementary Tiger on WEDNESDAY only next week!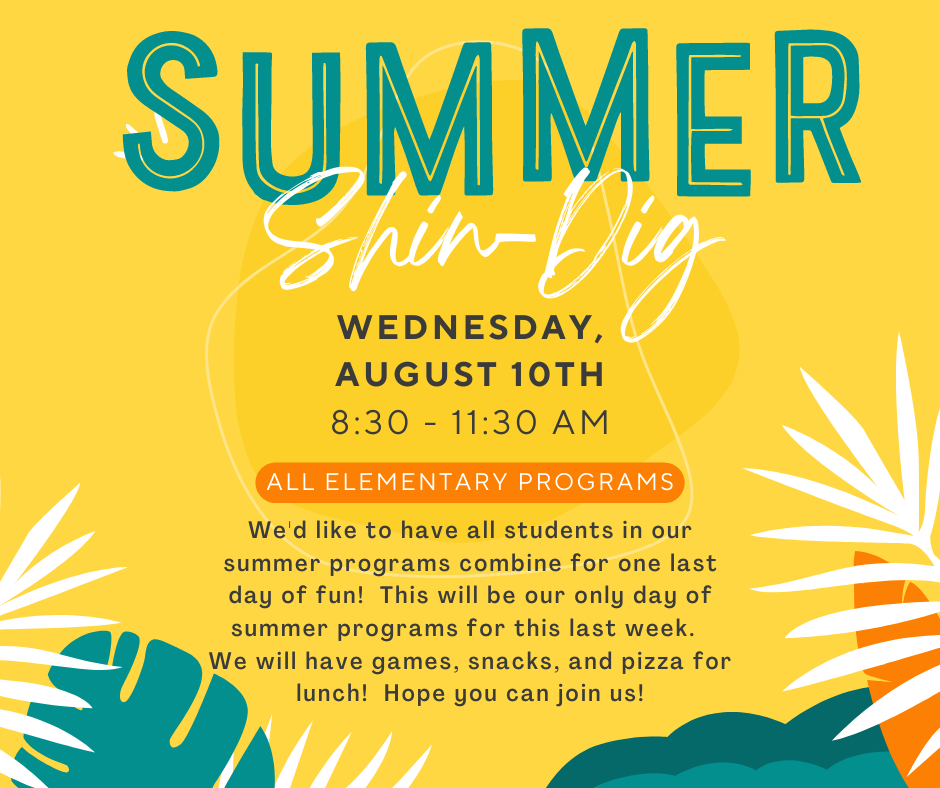 JV/V FOOTBALL practice will begin MONDAY, AUG 8th. Practice will run 5:00-7:30pm. JR High FOOTBALL and VOLLEYBALL will be posted at a later date. *All students must have physicals PRIOR to participating. Missed practices will count towards playing time.

Back to School Lists for K-12 classrooms can be found here:
https://bit.ly/b2s_22-23
It's crazy to think we are already into August. Hit those back-to-school sales! Our first day of school is August 29th!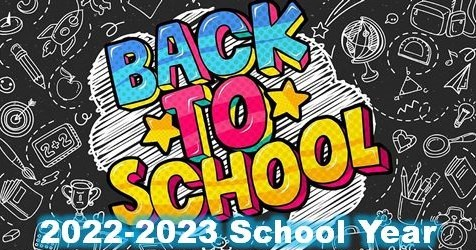 Truck for Sale ~ $2,500 Minimum Bid! We are accepting written sealed bids on our 2001 Chevy Half Ton Pickup w Plow / !!!AS-IS!!! 143,000 miles / 4x4 / boss 7' 1/2 Plow. *Needs rear end gears and brakes* "AS-IS" Accepting bids until Thursday, August 11th at 3pm in the Superintendent's Office. It can be seen Monday - Thursday during normal work hours. Any questions may be directed to the Superintendent's Office. Payments must be made in cash, cashiers check or money order. **CPS Schools reserves the right to refuse any or all bids.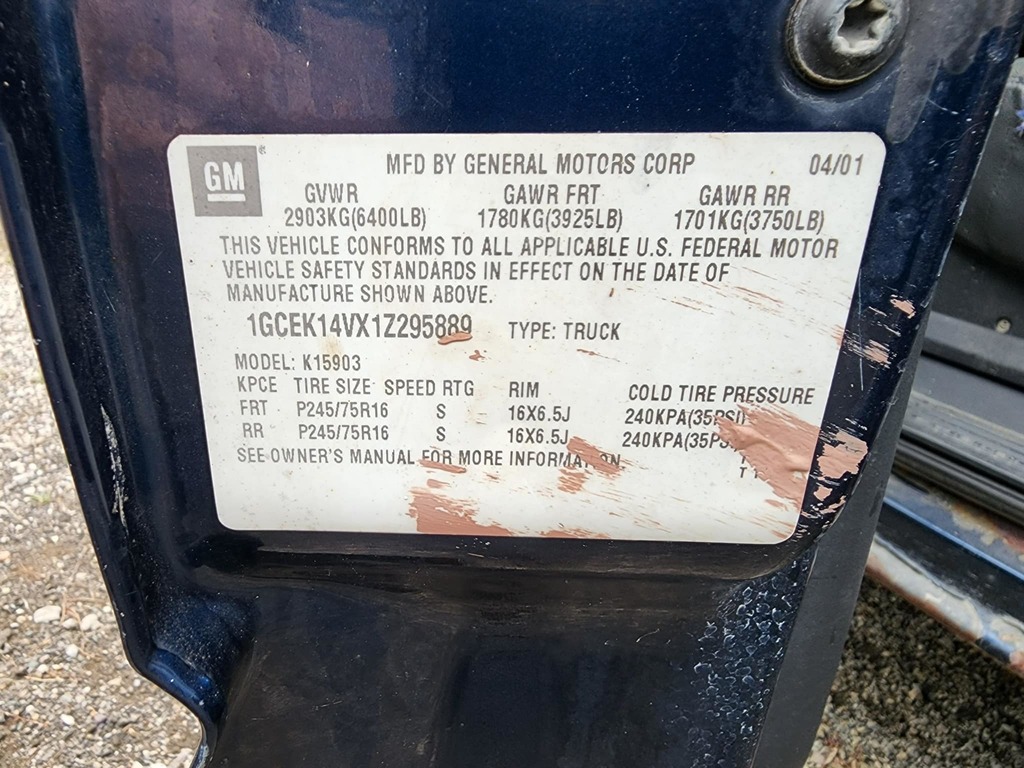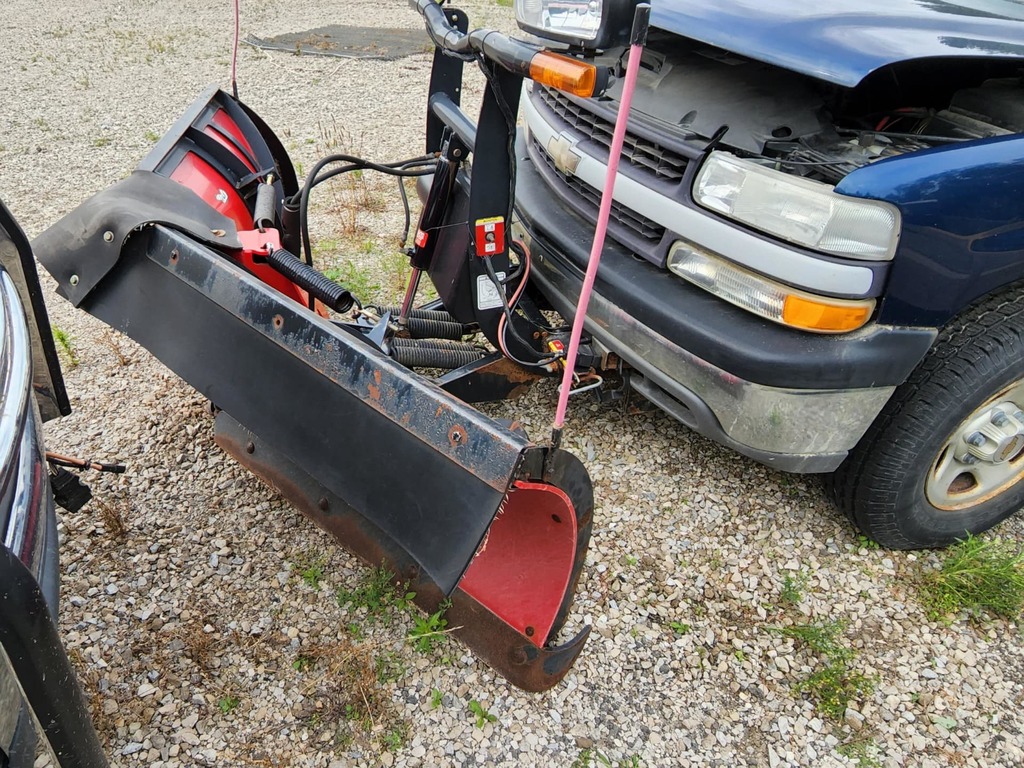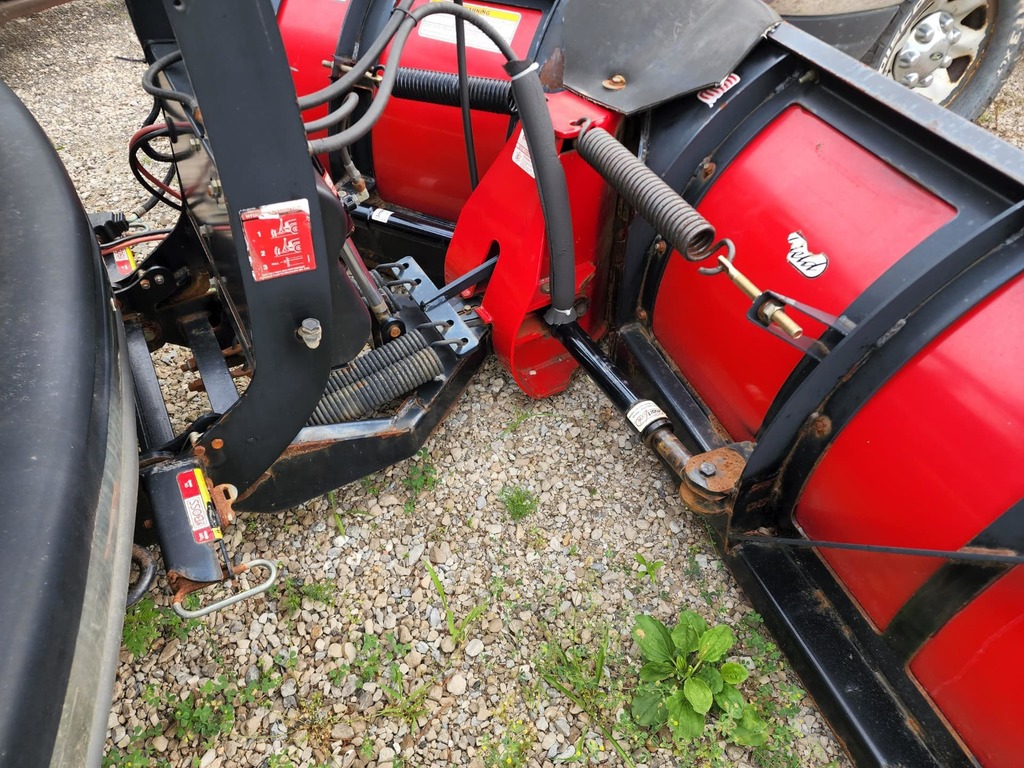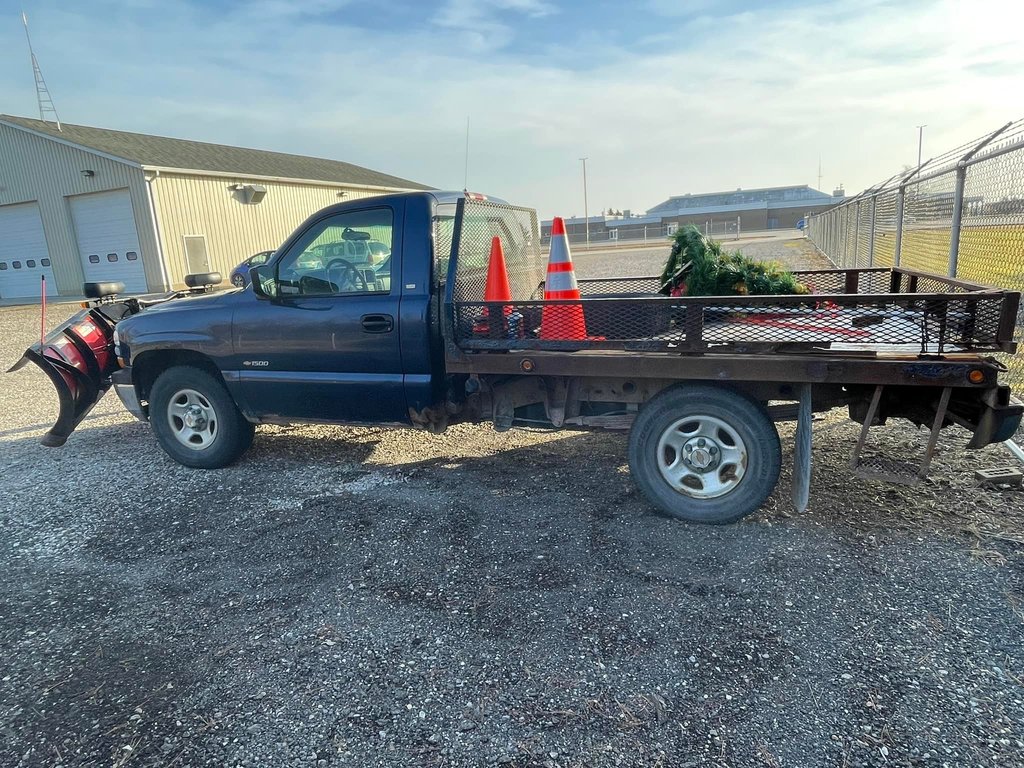 '22-'23 School Calendar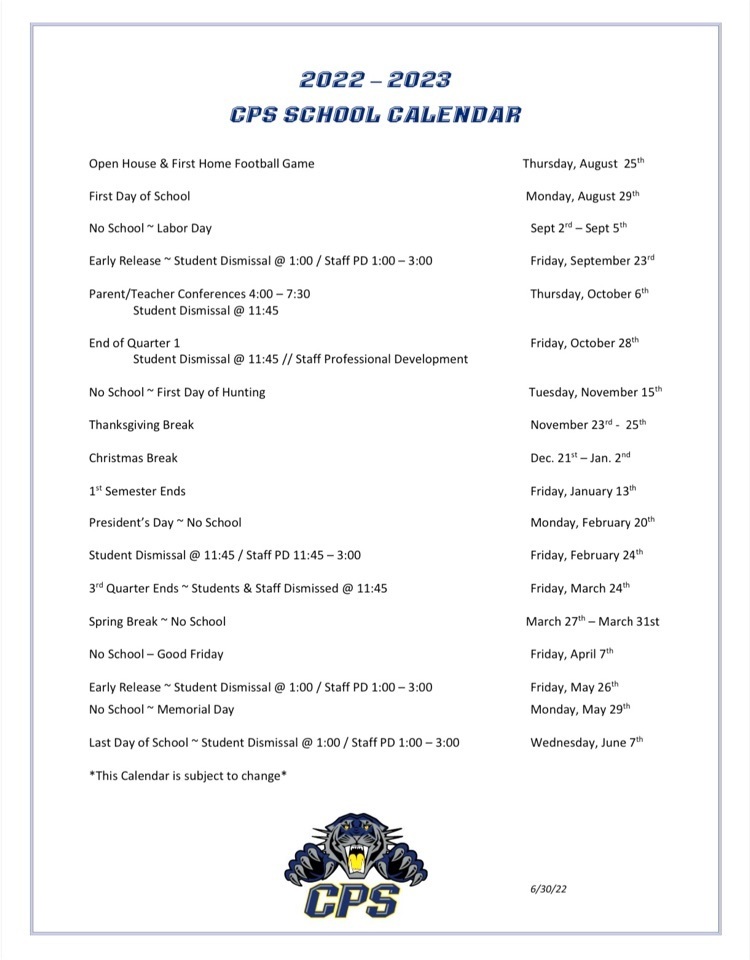 It's Youth Football Camp time! Get your information below. Contact Coach Hartsell with any additional questions (
ehartsell@cpsk12.us
).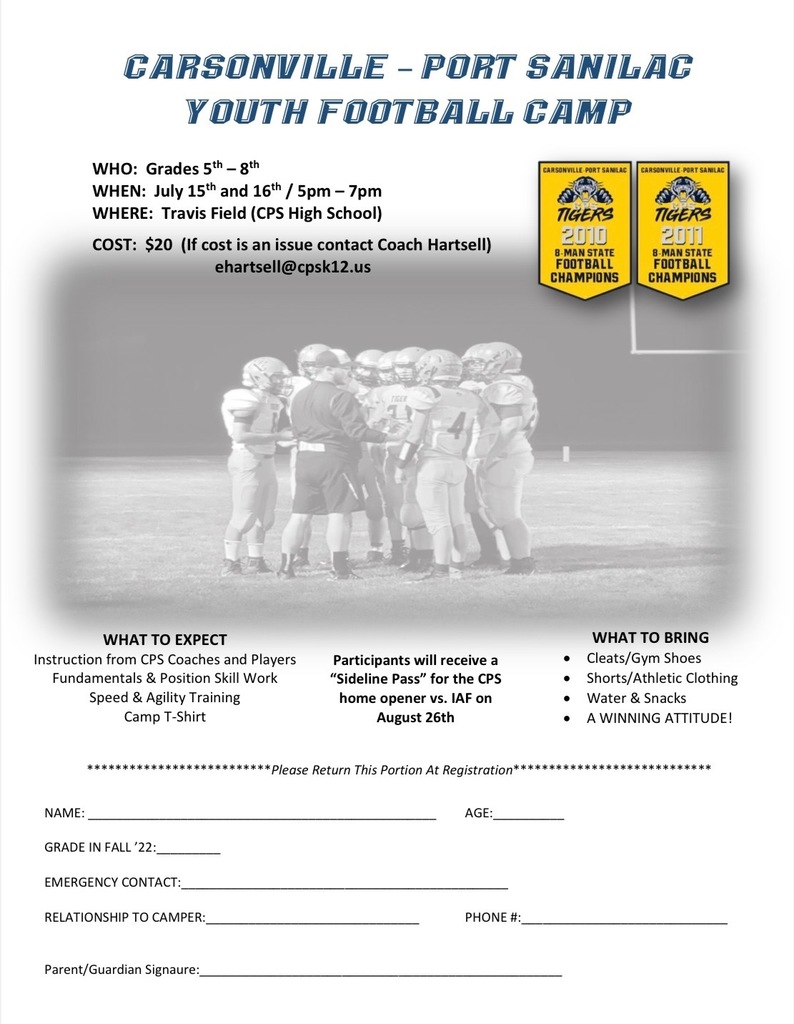 Port Sanilac Parks & Recreation starts tomorrow! Check out the flyer if you are interested in info for your Tiger! You can register at the Port Sanilac Village Office!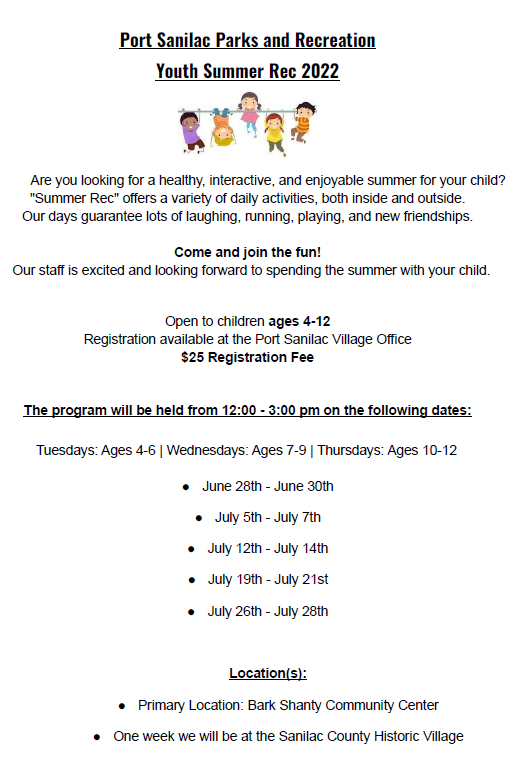 Our Sanilac District Library has some awesome summer offerings! Check them out!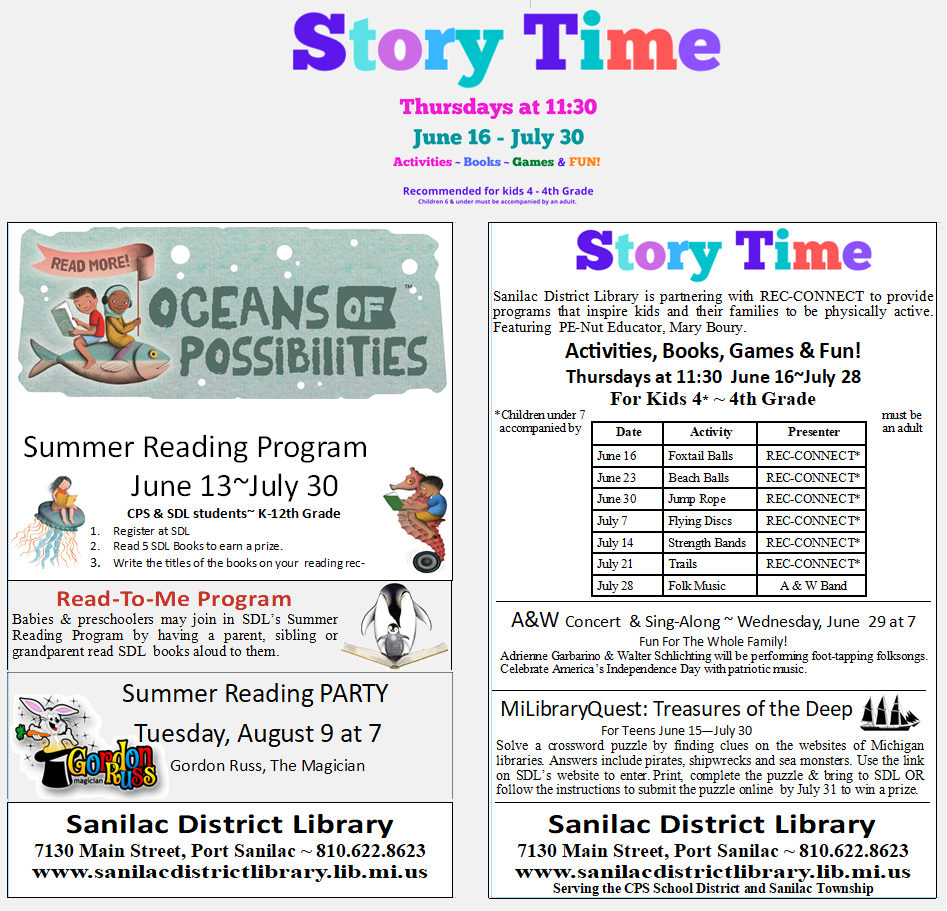 *Attention all CPS 6th-12th grade athletes*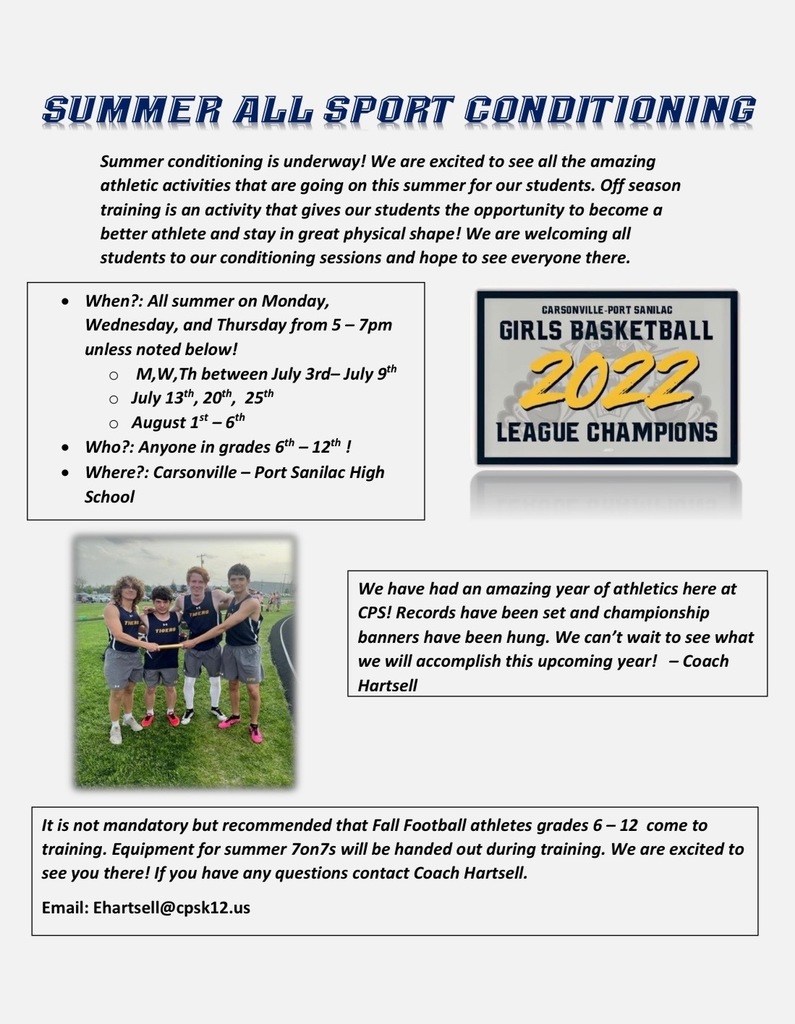 Come join the fun June 26th at the CPS Golf outing!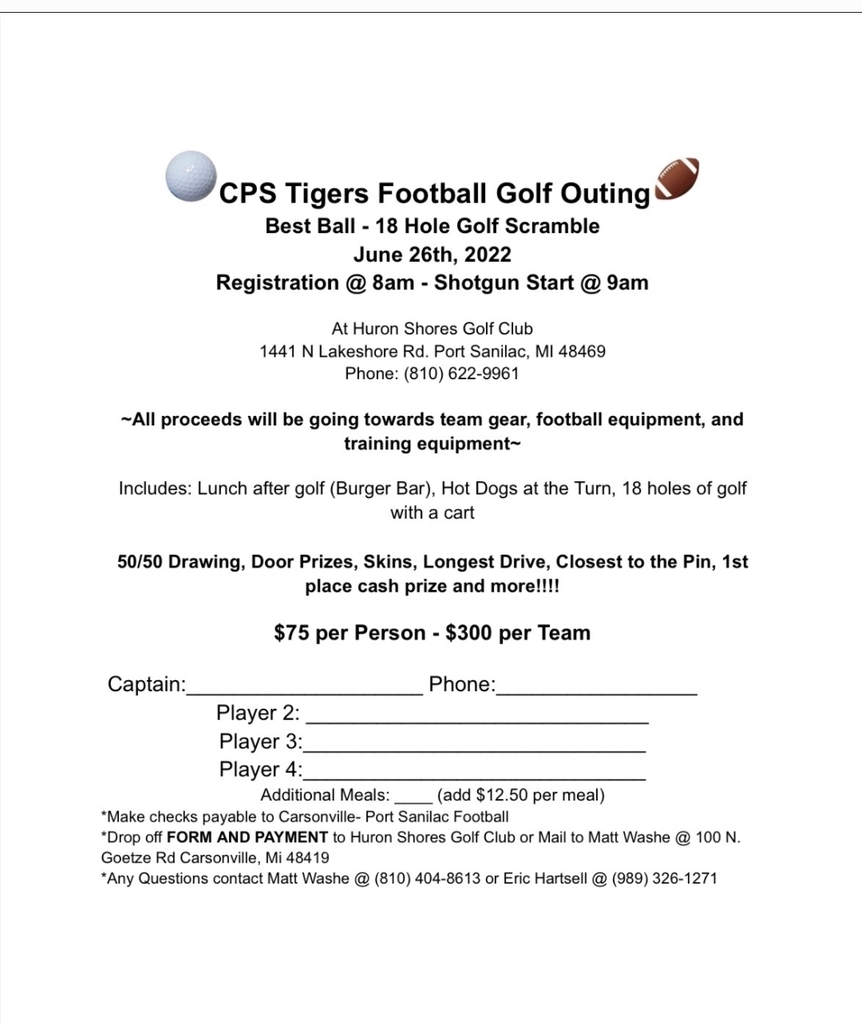 Julia Albecht has volunteered to host some 1st & 2nd Grade Basketball fundamentals at the Elementary School on Fridays from 9-10 am! See the flyer below! Starts this Friday!!!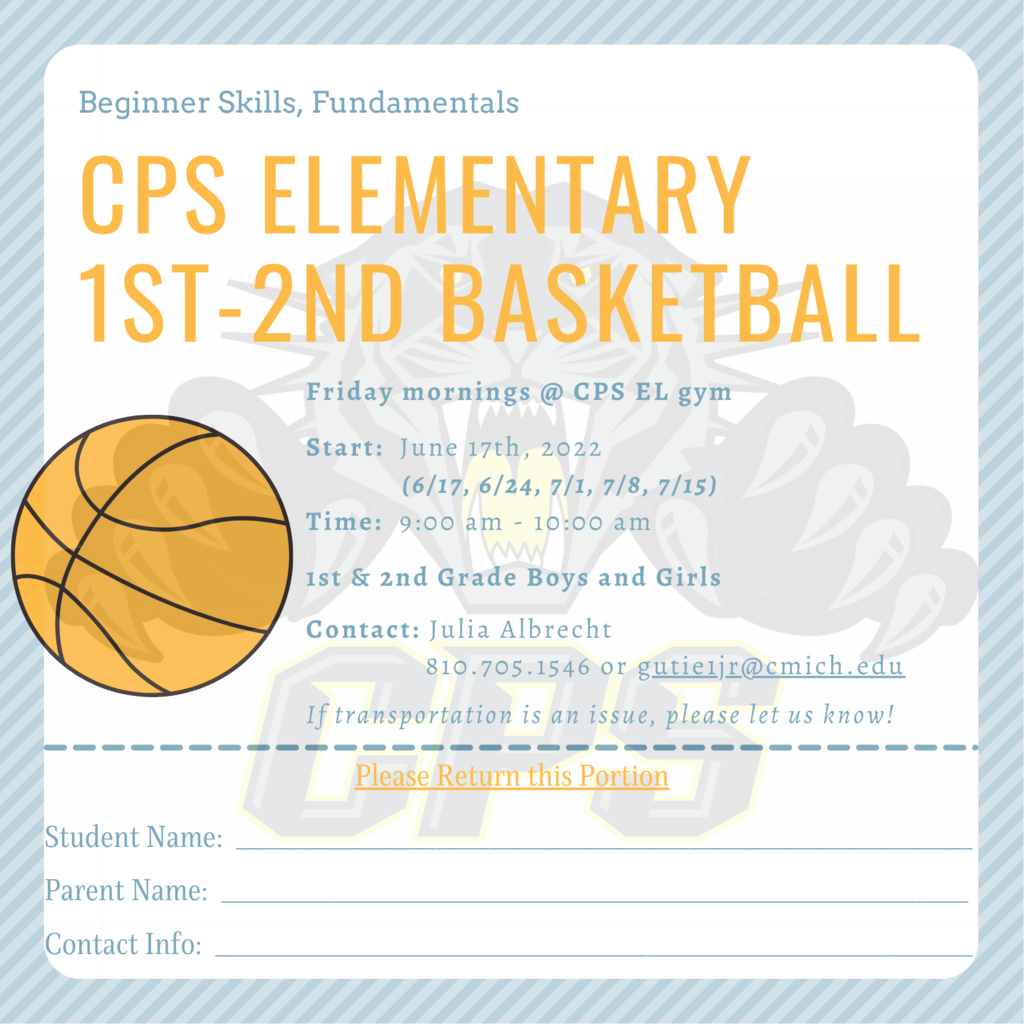 Our Summer Learning programs start this week! We will be finalizing bus routes tomorrow! Sign up ASAP if you're interested in this program for your Tiger! Sign up here:
https://forms.gle/RpPKHvcoskKLkvmE7

Camp Day #2 starts with yoga and a beach view!